Coworking spaces aren't going away anytime soon. A coworking office space has an open layout that allows office workers to move and collaborate freely and openly. In 2019, there were nearly 19,000 coworking spaces around the globe, according to Statista. And this number is expected to grow to 26,000 in 2025.
Why are coworking spaces becoming more popular? And what are the things you should keep in mind when choosing a coworking suite?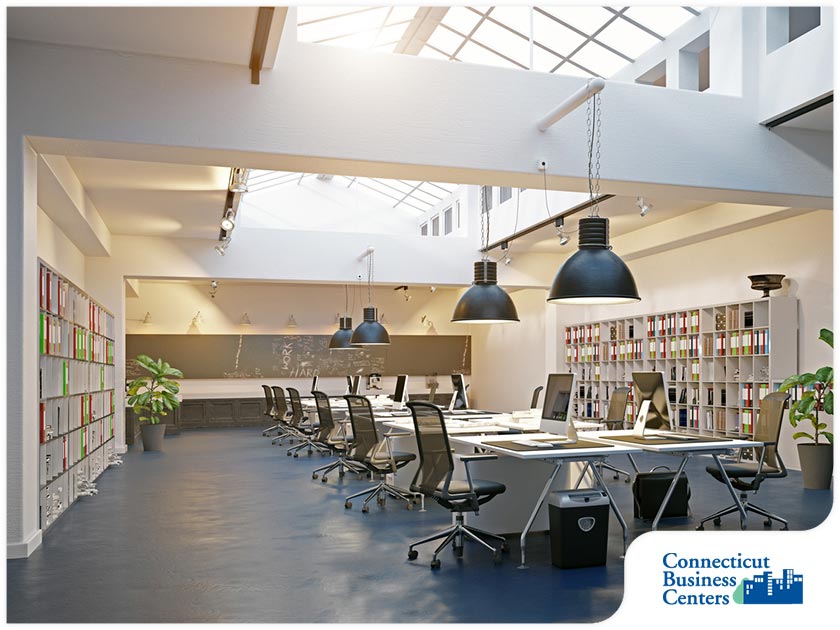 Cost Efficiency
The primary reason behind the increasing popularity of coworking office spaces is their affordability. Shared office spaces are more affordable than dedicated offices because the rent is split among the companies sharing the space. For a lower price point, you can have access to prime real estate and quality amenities that would normally only be accessible to larger companies. Not to mention you don't have to worry about office maintenance, which building management will handle. And as an added benefit, coworking membership contractors tend to be more flexible as well.
Wide Range of Options
The US is the global leader in terms of coworking real estate, having 80 million square feet of flexible workspace. As such, entrepreneurs, startups and small and medium-sized businesses (SMEs) won't have a problem finding a coworking office space that meets their needs.
Positive Impact on Employee Productivity
There's a perception that employees in coworking spaces are less productive because their work environment isn't as structured as the traditional office set-up. However, evidence from other studies has suggested the opposite: employees in coworking suites have reported levels of productivity approaching an average of 6 on a 7-point scale, suggesting they're thriving in a shared office space. Some researchers think the positive impact on employee productivity is due to the increased autonomy and job control employees enjoy in a coworking suite while others suspect it's the sense of community in coworking spaces.
Things to Consider Before Choosing a Coworking Suite
Not all coworking suites can offer the aforementioned benefits, so it's important that you do your research before choosing a coworking office space. Here are the things you need to consider before choosing a coworking suite:
Location – Ideally, the coworking suite should be in a nice location (to make a good impression on prospective clients) and highly accessible or at least close to public transport, (like the center of a city for instance).
Parking – Parking space can be scarce and expensive, so you should check if parking is included in the coworking membership.
Accessibility – Is the coworking suite open 24/7? Find out what the facility's working hours are, so you can plan employees' schedules effectively.
Amount of floorspace – Request a tour of the facility to see if it's big enough to meet your company's needs.
Security – Inquire office management about the security protocols in place that help keep company equipment and employees safe.
Privacy – Certain coworking suites offer private rooms for small teams while others have conference rooms that can be used for a fee.
Community engagement – Don't underestimate the impact a shared sense of community can have on employee productivity. Part of the reason why some employees thrived in coworking spaces is a strong sense of identity with the community in their office space. Employees value autonomy and flexibility, but the structure provided by a community helps maintain discipline and motivate them. To learn more about the level of community engagement in the coworking suite, ask the community manager about the kinds of community leisure or networking activities they have planned for members.
Here's a pro-tip: It would be a good idea to find out what the professions of office workers in the coworking suite are. While it's natural to gravitate toward people and companies in the same profession, exposure to professionals in different fields injects a jolt of energy into the office space, which could in turn have a positive effect on productivity.
Amenities – Free coffee is a nice perk, but it's not a must-have. The must-have amenities of a coworking suite are fast and stable Wi-Fi, Skype rooms for client calls and a back-up power system. And to avoid hidden costs, don't forget to ask the manager which amenities are free.
Important note: Keep in mind that each company will have a different set of must-have amenities, depending on their company culture. For instance, companies with a work culture centered on health would consider gyms (or proximity to gyms and fitness centers) a must-have feature in their office space.
Narrowing Down Your Options
We recommend making a shortlist of all the coworking suites with the features and amenities your company needs. To narrow down your options, you should factor in your employees' needs.
Here are some of the employee-specific factors you should consider:
Demographics of office workers – Choosing a coworking office space that's used by professionals in the same age group as your employees or companies with similar company cultures can help boost morale in the workplace. To get an idea of what employees think about their potential new workplace, it would be a good idea to bring one of your employees to the tour of the facility.
Employees' future needs – Given the fast-paced nature of modern industries, it's important that companies consider their business and employees' future needs when choosing a new office space. A coworking suite might seem the perfect fit right now, but eventually, your company and employees' needs might outgrow the facility.
Boosting Employee Productivity
As mentioned earlier, the workspace can affect employee productivity. What are the specific aspects of an office space that can have an impact on employee productivity? Here's an overview:
Ambiance – Coworking office spaces tend to be more casual than a traditional office, but contrary to what many think, this isn't bad for productivity. A more relaxed working environment encourages creativity and innovation. However, flexibility can be too much of a good thing. As mentioned earlier, the main reason why a shared sense of community within a coworking office space has such an impact on productivity is that it provides a limited form of structure and routine that keeps employees disciplined. As such, to optimize employee productivity, you should choose a coworking suite that balances a casual atmosphere with a formal layout.
Natural lighting – Natural lighting not only brightens the mood in the office space, but also helps improve productivity. While this positive effect on productivity can be attributed to higher levels of Vitamin D (an essential nutrient that helps regulate the sleep cycle and, by extension, moods), there are other indirect ways natural lighting can improve productivity. For instance, a 2018 study found that office workers in daylit office spaces reported an 84 percent drop in symptoms of eyestrain, headaches, and blurred vision symptoms, all of which can negatively affect productivity. Workers sitting close to a window that optimized exposure to natural light also reported a 2 percent increase in productivity, which isn't insignificant. It's estimated that this boost in productivity is roughly the equivalent of an additional $100,000 of value per year for every 100 workers.
Connecticut Business Centers is the premier provider of all-inclusive executive office space solutions for corporate professionals in the state. Our center is located in Fairfield County's most prestigious business district, giving our clients a business address that can rival Manhattan in terms of prestige. To reserve your workspace solution, call us at (203) 359-5600 or fill out this form. We serve homeowners in Stamford, CT, as well as the surrounding communities in Connecticut.