Custom Office Space Solutions for Your Clients
At Connecticut Business Centers, we work closely with all players in the real estate world and have established close working relationships with many brokers. Our commitment to fast, hassle-free transactions, flexible terms and immediate availability of many office options translates into success for both you and your clients. We are committed to protecting the relationship you have worked hard to establish.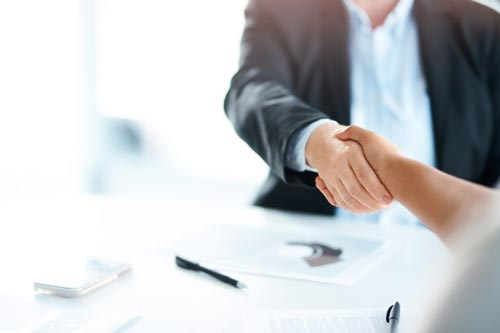 We Establish Rewarding Relationships with Brokers
If you're a broker, Connecticut Business Centers wants to provide your clients with a custom office space solution. Locally owned and operated for nearly 20 years, our expert team provides all-inclusive executive office space, delivered on-demand and with flexible terms, for businesses wishing to make their mark on Fairfield County, the East Coast and the world. Our center facilities, team members and technology are focused on helping each customer achieve business excellence.
Brokers receive the direct professional attention of Tom Jamison, president of Connecticut Business Centers. Tom can appreciate your needs and those of your clients because he knows real estate and business. He's a real estate professional with more than 20 years of experience as a licensed broker in Connecticut and New York, and is uniquely positioned to be a trusted advisor to all.
Benefits to Our Broker Partners
Expert professional attention, committed to providing solutions for your clients
We protect the relationship you have worked hard to establish
Many office options, from team rooms to private offices
Two prestigious locations to choose from
Uncompromising commitment to customer service
Deals close fast (sometimes the day of the tour)
Referral fee paid immediately upon contract signing
Benefits to Our Clients
A variety of workspaces to align with clients' business needs and budget
Cutting-edge technology
Convenient locations with proximity to the region's top business hot-spots
Dedicated full-time support staff to help clients achieve business excellence
High client satisfaction rating
At Connecticut Business Centers, we understand the importance of presenting a comprehensive tailored package quickly, even within a matter of hours when the need arises. Let Connecticut Business Centers be your clients' executive office space solution.
Stop In for Coffee – and Tour Our Centers
All Connecticut Business Centers locations are an excellent resource for long-term office space, swing space, expanding or downsizing companies. We invite you to come in for a visit, or simply refer your client. Connecticut Business Centers knows how to provide the best workspace solutions, so you are in good hands!