Landmark Square Center: Where Business Gets Done
Our flagship Landmark Square Center is in the most prestigious office complex in the heart of Stamford's central business district. Our center occupies the entire 22,000-square-foot fourth floor and is fully positioned to meet the ever-changing needs of our business clients. There is abundant parking, including valet service and a personal concierge for our clients' convenience.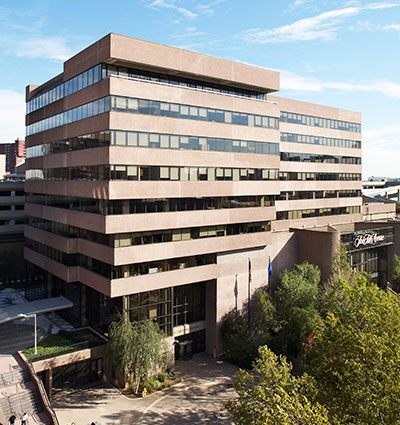 The handsomely appointed center features three large team rooms and three elegant private suites, as well as 65 additional private offices offering the finest office space in Stamford, CT. All are connected to an array of broadband options. Five conference rooms, with comfortable seating capacity for four to 35 attendees and state-of-the-art videoconferencing capabilities, are also available.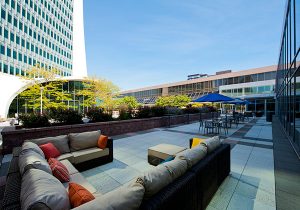 Known as the foremost corporate address in Fairfield County, Landmark Square is a short walk to Metro North and Amtrak, hotels and some of the world's premier financial services firms. Its location provides immediate access to I-95, the Stamford Center for the Arts and approximately 50 restaurants. Additional complex amenities include a full-service cafe, expansive health club, private shuttle to the train station, copy center, dry cleaner, currency exchange, car wash, barber shop and a direct connection to Stamford Town Center Mall.
Restaurants
The Capital Grille
Mitchell's Fish Market
Cosi
Landmark Square Cafe
Starbucks
Retail
Enzo Clothier
Brooks Brothers
Saks Fifth Avenue
Macy's
Harry & David
Activities
Stamford Center for the Arts
Stamford Museum & Nature Center
Stamford Town Center Mall
Nine-screen multiplex theater
Contact Us for Your Custom Office Space Solution
With our team as an extension of your business, your company will enjoy greater visibility and an increased presence in the heart of Fairfield County. Let Connecticut Business Centers be your solution for executive office space in Stamford, CT. Simply complete our online form or contact us directly at (203) 359-5600, and we will have you up and running in a day.
Local Reviews
Connecticut Business Centers Rated 5 out of 5 stars based on 34 customer reviews