Company Overview
Connecticut Business Centers is the premier provider of all-inclusive executive office space and coworking space for corporate professionals in Stamford, CT. We offer fully furnished and equipped office spaces and suites, conference facilities, videoconferencing and virtual office services – all perfect for small to large companies, entrepreneurs, home-based businesses, contractors and on-the-go professionals. We allow businesspeople to focus on what they do best!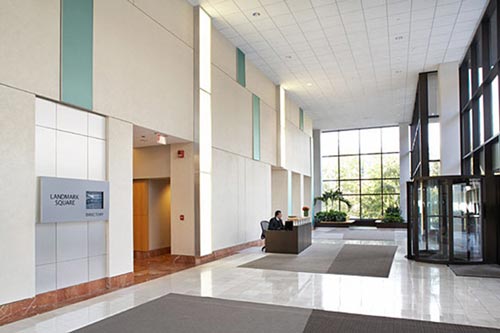 Conference rooms by the hour, day or week
Videoconferencing
Immediate availability
Flexible terms
Company History

Connecticut Business Centers was founded in Six Landmark Square in 1983.
We are proud to be the only Veteran owned business of its type in Stamford.
Our staff has a combined tenure of 57 years at this location and is ready, willing, and able to provide support to our clients cheerfully and professionally. This attribute is readily apparent when one reads the reviews on our webpage.
We enjoy doing what we do, and it results in happy, productive clients, some of whom have been with us over 20 years!
Tom Jamison, Owner
Tom Jamison became the President and owner in 1995. Tom is a real estate professional with over 30 years of experience as a licensed broker in Connecticut and New York.
Jamie Kopek, Center Manager
Jamie started at Connecticut Business Centers as a temp in 2011. Jamie has proven (and continues to prove) to be a huge asset to our small company. She was born and raised here in Stamford, CT. She has her associates degree in accounting from Norwalk Community College. She has a passion for people that makes all the clients gravitate toward her.
Put Your Business on the Fast Track
Every business owner dreams of an office in a prestigious location. For start-up companies or corporations expanding into new territory, Connecticut Business Centers offers a flexible office space solution that allows companies to create a big business image on a modest budget.
Contact Us for Your Custom Office Space Solution
Connecticut Business Centers' location is an excellent resource for long- or short-term office space, virtual office space and conferencing. With our team as an extension of your business, your company will enjoy greater visibility and an increased presence in the heart of Fairfield County. Let us be your executive office space solution in Stamford. Simply complete our online form or contact us directly at (203) 359-5600, and we'll have you up and running in a day.