Once you select the right office space after careful research and consideration, you'll still need to choose an appropriate layout for your meeting. What you decide will depend on the kind of meeting you're planning to hold, and there are several options to choose from. Connecticut Business Centers shares some of the most common ones to consider: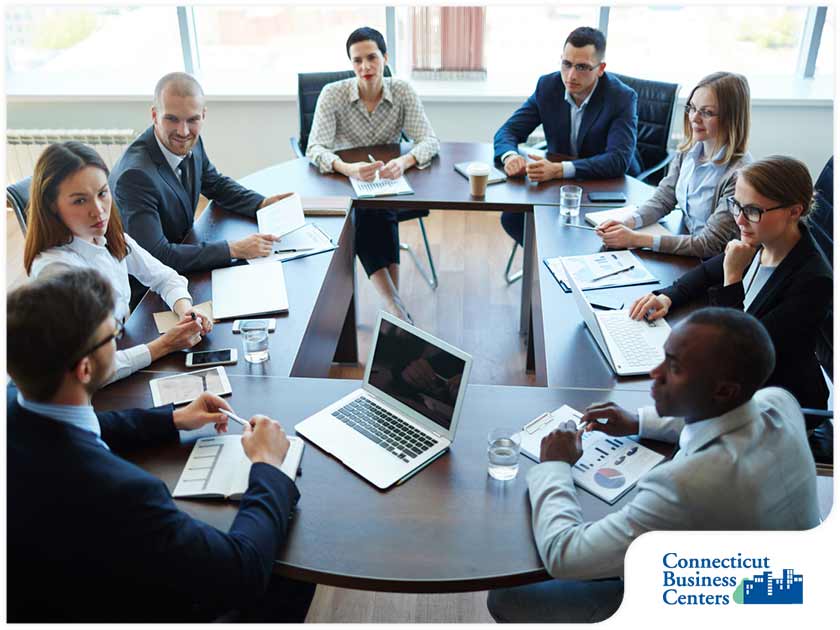 Round Table Setup
Round table meeting rooms consist of circular tables surrounded by chairs, and they're usually popular in wedding receptions, gala dinners, or award ceremonies. These can typically seat between eight and ten guests per table, which allows them to communicate as a group. As each chair faces in, there isn't usually a 'head' of the group and full attendee engagement is encouraged on topics that might require vulnerability or personal connection.
U-Shape Setup
In this setup, a series of rectangular tables are arranged end-to-end to form a "U" shape in the middle of the room or office space. This type of setup is commonly used in meetings to allow presentations to be visible to the attendees. Use this if you want you're expecting both group interaction and visual presentation in the meeting you're setting up!
Boardroom Setup
This type of setup is ideal if you have more than 10 people attending your meeting. If there's a certain level of discussion you want to achieve in your meeting, then this setup is your best choice. Having too many attendees involved can get very noisy very quickly depending on the agenda. This is also a good choice if the goal of the meeting is to make an announcement, as it keeps attention on the main guest before leading to a speech or answering any queries from the other attendees.
Connecticut Business Centers is your best choice when finding the perfect conference room or setting up a virtual office for your meeting. Call us today at (203) 359-5600 or fill out our convenient online request form to know more about what we have to offer! We serve our customers in Connecticut, including Stamford and the neighboring areas.