As a business owner, you'll always have people visiting your office space. Some can visit just once or twice while others are regulars. But whether they're walk-ins, delivery personnel, interviewees for a job or even investors, it's important to understand that visitors can come in different forms. This means certain security issues need to be addressed to keep your office safe for your employees.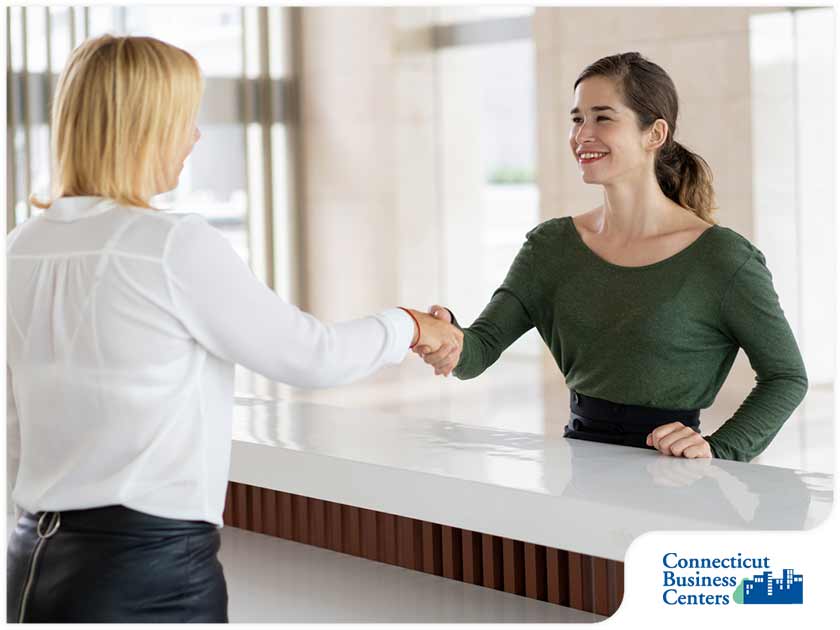 What's a Visitor Policy?
To ensure that your employees, clients and workplace assets are secure, you'll need to implement a good visitor policy. It's a framework that helps employees and receptionists understand the procedures in properly handling any type of visitor that comes into your office. This is typically a set of guidelines that help in keeping the visitors safe as they're being directed to where they need to be.
Visitor policies are a must in every business. Even if you already have one implemented, it's a good idea to check and update it occasionally. Of course, the specific details on a visitor policy will vary depending on the type of business and how it operates, so this article will only discuss the basic principles. Connecticut Business Centers has also shared a few tips on how to handle people visiting your office space.
Before Creating Your Visitor Policy
You won't be able to write up a proper visitor policy if there's no one to handle the visitor-related responsibilities. It's important to establish a clear chain of command, especially if you have a large office. Someone from your front-office staff, security or reception lobby can be selected as head of visitor management, but make sure that they understand their visitor-related responsibilities.
Setting Up An Authorization Protocol
Even after assigning someone to manage the incoming visitors, you still need to decide on who will help them enforce your visitor policy. Many businesses would give the authority to admit any visitor to any employee who meets with them. But depending on the type of business you have, you may also choose someone from the security department for better safety management.
Keep a Visitor's Record
This is important to know who has visited or is currently in your office space. This is usually part of your receptionist's responsibilities, and the easiest way they can do this is to implement a digital sign-in procedure. This usually involves providing proof of identification so that they're able to keep track of people entering and leaving the office. Having a digital visitor log is also easier to use as you can keep it for future reference and emergencies. For instance, if there's a fire in your offices, a visitor log can help your staff keep track of who was at your office at the time of the incident.
Establish a System in Categorizing Visitors
You can expect your office to have many types of visitors, which can be sometimes difficult to track even with a sign-in procedure already established. It helps to consider different procedures, access and surveillance guidelines for each type of visitor entering your office. They'll need to have different sign-in procedures and specific visitor ID passes depending on the nature of their visit. Also, make sure that the visitors wear their given passes while they're in your office so that employees can identify them and their level of access should they be questioned.
Highlight Restricted and Open Places to Visitors
A comprehensive visitor policy should consider which areas are restricted and open to your visitors. The visitor's pass can help identify who's allowed in certain areas of your office space. Restricted areas include places that contain your work assets. Depending on the nature of your business, it can vary from intellectual property and confidential information to dangerous and highly toxic chemicals.
Your visitor policy should also highlight which areas are available for different guests since they can come in different forms and have different purposes. For instance, only the recreational and conference rooms may be open to all guests, so other areas of your work can be restricted. But if you're expecting HVAC contractors to do maintenance to your system, they should have access to the utility areas of your office. Delivery personnel can also have access to other areas of your office that aren't usually open to normal visitors.
Add Guidelines in Escorting Different Visitors
For both security and visitor-safety reasons, you shouldn't leave your visitors to get lost in your office space or roam around on their own. It helps to set out specific responsibilities for your employees or security when escorting a visitor. These responsibilities include making sure the visitor complies with company policies as well as safely evacuating them in case of emergency.
Include Recording and Non-Disclosure Policies
If your business has a lot of cutting-edge research or confidential work assets, you probably wouldn't want visitors to casually record them in any manner. That's why it's important to include in your visitor policy some restrictions regarding recording in your office. And depending on the business, you should also include a non-disclosure agreement and require your visitors to sign the document before they can enter your office.
Inform, Educate and Enforce
Once you've created a comprehensive visitor policy, your employees should be thoroughly familiar with it. A security breach won't happen if your employees and security fully understand your visitor policy. With proper training and education of your visitor policy, your employees and security will know the right procedures and how to enforce them properly.
While you need to prioritize the security and safety of your employees and work assets, that doesn't mean you're unable to keep your visitors comfortable while they're in your office. Make it a goal to make your visitors feel welcome when they step into your reception area. Even if it's not part of your official visitor policy, it isn't difficult to encourage your employees and receptionists to assist the visitors when needed. A good visitor policy lets your visitors know where to ask for help and assistance should they need it, and won't feel uncomfortable and embarrassed when they do.
When it comes to excellent office space rentals, there's only one name in the area who's got you covered. For more information, contact Connecticut Business Centers today at (203) 359-5600 or fill out our convenient online request form. We serve our customers in Connecticut, including Stamford and the surrounding areas.