A good office space can potentially make a great first impression on its visitors. While each may present a different first-hand experience, all businesses have the opportunity to make it the best one for those who step into their office for the first time. However, this is easier said than done, as some businesses may have a complicated website or a business address that's hard to find. Some may even have an outdated lobby with an unwelcoming receptionist.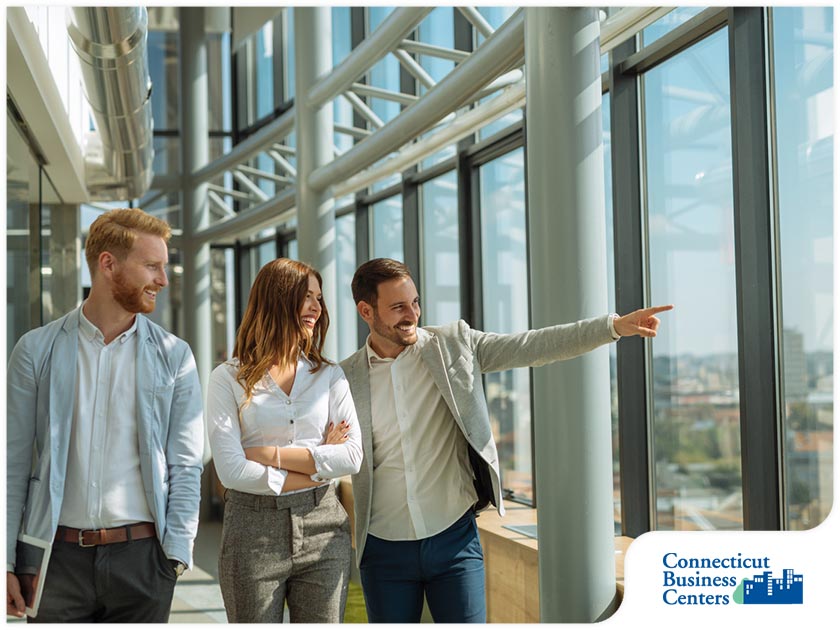 If you want your business to make a lasting first impression on your partners, investors, and customers, it's important to set a few things straight. If you want to get all the details right, you need to work with a top-notch executive office space provider who can help make it happen. As such, Connecticut Business Centers shares what you need to consider:
Nailing That Great First Impression
First impressions can be described as something that can easily happen in a single moment. The first meeting with your customer is crucial as it can influence how they'll describe your business when they talk about it to other people. This cognitive bias is what's known as the "Halo Effect", and can be a great benefit to any business if they make the right impression on first-time visitors and investors.
It's important to get the visuals of your business in order. That includes your brand, website, and even the logo, as they will all be visible to your customers. When you make your design language clear and present your business, you'll know what your customers will think about your office space and how they'll describe their experience to others.
Make It Easy For People to Search You
Directions, postcodes and a phone number aren't much to ask for, but if your customers or investors have to go through several clicks to find it, they may lose interest and move on to the next lead. Sometimes, web designers may get so carried away with building aesthetically pleasing websites that they unknowingly bury essential information in the process. Your complex website may be difficult for customers to navigate, which only gives them the impression that you're hard to contact. Simply put, their first impression or customer experience with your business won't be satisfactory.
When customers browse your website, they want to know what products and services are available, hours of operation, customer testimonials, and service guarantees to get a general feel for your business. A good tip to remember is to keep your business phone numbers visible on every page of your site and that the directions to your office space should be clear and easy to follow. Ensure that your postcode works in Sat Navs and Google maps as well.
Get a Nice Business Address
With the Halo effect theory in mind, having a good business address will make your local clients view your company as successful, established and reliable. For smaller businesses, you can call a good office space provider who can help you choose the right location that will make the right kind of impact when giving customers a first impression.
If you work in a coworking space, you can ask if you can use their existing office address. Most coworking spaces allow this for a small fee. You can also rent a virtual office space address for businesses that can't be locally present or have an address that's far from the central business district. You can talk with your trusted office space provider on how this can be possible for your business; some even offer mail management and monthly/quarterly contracts! But just in case a customer turns up at your virtual office address, make sure you have real people on site who can accommodate them.
Get Rid of Automated Messages
Not all customers like to be kept in a queue while their calls go through automated messages and responses. Some small businesses may do this for convenience, while others think that it will make them look bigger or more professional. This won't appeal to a broader customer base, however. If your calls are experiencing a high abandonment rate or hold time from your customers, then you should ditch your automated phone system and switch to a more "personal" approach.
Having a call answered in three or four rings by a real person will make for a much better customer experience for your business. It will be even better if those who handle your calls are qualified to answer their queries and give details without the need for someone else to phone them back. It may add more work to your employees, but it will also mean fewer call abandonments and more satisfied customers.
Make Sure You Have a Neat Lobby
The front of your office space is the first thing people will see, so if you want to make a good impression, it has to look presentable. Whether it's investors, business partners or customers, they'll feel impressed and confident that they're in the right place, while your employees will feel inspired and motivated because they're working in a visually appealing workplace.
Invest In a Professional Reception Service
Along with a presentable lobby, it's also important to have a welcoming and helpful reception area when people enter your office space. This will also be one of the first things people notice when coming to the building. A friendly face who can greet customers and visitors and can also answer any questions they may have leaves a good impression about your company in their minds. A good reception service also makes them think that you truly care about their overall experience with your business.
For instance, if you're currently in a meeting, dealing with another customer, or preoccupied at work, it's nice for people to know approximately how long they have to wait before they can speak with you. In the meantime, someone can go and ask them how they are and whether they want a hot or cold drink. Your receptionist's service to its visitors will reflect your business, so if they feel like their needs are being prioritized, then you've already made a good first impression on them!
If you're looking for good office space in the local area for your expanding business, Connecticut Business Centers is your premier provider for your company's needs. For more information, contact us at (203) 359-5600 or fill out our convenient online request form. We serve our customers in Connecticut, including Stamford and the surrounding areas.