While most people and businesses have transitioned to remote working arrangements due to the COVID-19 pandemic, there are some critical businesses that require brick-and-mortar locations to carry out their services. They choose to conduct business in their office space due to certain circumstances. Some of these include services that require physical processes, clearer collaborative efforts that can't be achieved online or other requirements that cannot be done remotely.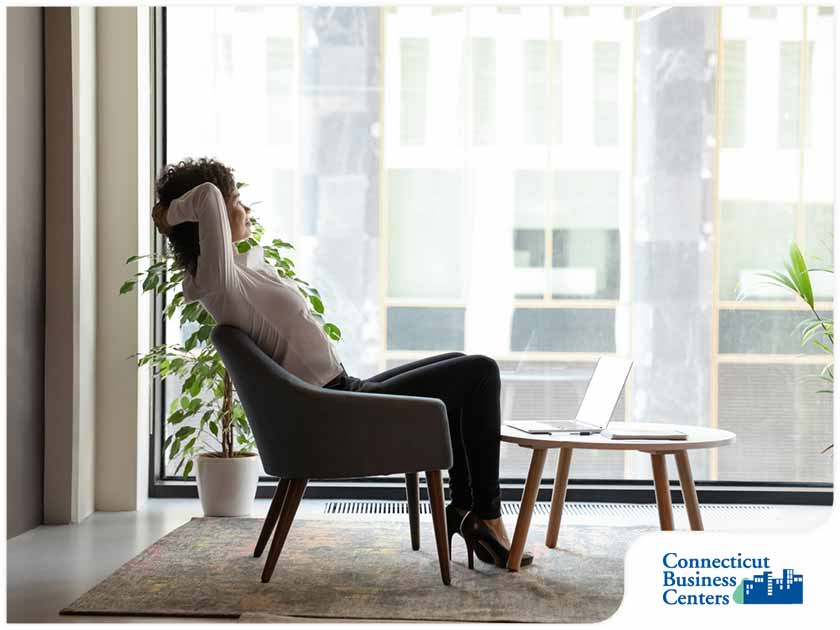 As the government urges us to stay at home and only leave when it's required, such as traveling to work, it's in your best interest to create an office space that's comfortable for your employees to work in. After all, having your employees work in a flexible, comfortable environment that meets all of their needs at any given time boosts your businesses' productivity, as well as their motivation to carry out their tasks assigned to them.
In this post, the authority on office space projects, Connecticut Business Centers, shares tips on how you can create a flexible office space for your business.
What Is a Flexible Office Space?
Derived from the word itself, a flexible office space is a workspace designed to accommodate any kind of work that needs to be done. Whether it's meant to serve as a collaborative co-working space, a manufacturing area or panned out as a traditional office that can be easily adjusted according to the businesses' needs. Keep in mind however, that designing a flexible office space isn't all about the size, the space, or how you utilize it. Rather, it's all about the dynamic that it brings to your working environment. A flexible office space lets you become adaptable, which helps you get things done with better quality, speed and efficiency.
A flexible office space is also known as a "flexispace". It allows you to utilize flexible work arrangements that induces a dynamic working environment. They contain elements that can be found in your traditional office space — such as office tables, chairs, phones, and desktop computers that are arranged in a versatile manner.
These kinds of office spaces are created to accommodate the various needs of employees. For instance, a workspace can act as a small collaborative space today, a presentation area for tomorrow, and a project staging area for the week after, and so on. It's also worth noting that flexible office spaces are scalable, so you can adjust certain parts of your workspace to accommodate certain tasks, while leaving the rest of the space untouched.
Types of Flexible Workspaces
Small startups up to even multi-billion dollar corporations implement their own kind of flexible office space. This is made possible by creating custom desk options, space structures, and a functional workspace design. Here are some of the types of flexible office spaces:
Hot Desks. A hot desk is used on an "as-needed" basis by a handful of workers. It's strategically placed to support in-house staff, contractual workers, remote workers, new hires, and visitors who don't have a permanent spot in the office. Office workers basically share the same desk, depending on their assigned shift, which helps the office save up on real estate and reduces redundancies and clutter.
Coworking Spaces. Basically, coworking spaces are hot desks on a larger scale. In fact, it's mostly used by startups since they usually have fewer employees, so that they don't need as much space as other offices do. Coworking spaces also cater to remote workers, part-timers, and traveling workers.
Open Offices. Open offices are created with conducing collaboration in mind. It offers good structure and familiarity while being flexible enough to accommodate the needs of daily duties.
The main difference between these flexible workspaces is their scalability and adaptability. But rest assured that they'll answer the needs of employees, depending on the scale.
Elements of a Flexible Workspace
You'll actually find out that many elements of traditional offices are included in flexible workspaces, except that they're implemented in an efficient manner. Since they incorporate elements of a shared office space, active workspaces, or even open office floors, here are a few important elements that a flexible office space should have.
Breakout Spaces. Even if a flexispace is inherently collaborative, your employees might need to have to work in smaller groups, or alone, in a private area. This serves as a change of pace from a normally bustling and active working environment for them to focus.
Touch Points. A touch point is an overflow area that accommodates additional staff, contractual workers, and guests. It serves as a temporary workspace for them so that you don't have to relegate employees to another area, and shuffling them as the workplace adapts. This keeps the work process smooth, freeing them of distractions.
Open Plan Concepts. The core of a flexible workspace lies its open-plan concept design to function properly. Having an open plan concept enables workspace agility since it gets rid of physical barriers. An open concept plan also offers the best return in terms of square-foot-per-occupant efficiency.
Shared Resources. Every office needs access to shared resources to function properly, regardless of their department. For instance, the copy machine, break room, and other office assets should be easily accessible for everyone. This is ideally placed in a spot that's easily visible by everyone in the office space.
Quiet Zones. A quiet zone provides a space for privacy and focus. These areas are a must-have to serve as a balance from the daily bustle of open spaces. You'll just need to make sure that they're equally accessible to everyone and not hogged by one department or person.
With those points shared, you're finally set to create an exciting and dynamic office space to work in! Just make sure that you adjust your needs accordingly so that your office space can continue to function properly and efficiently.
To know more about our virtual receptionist services or when you're looking for an excellent office space in your area, you can count on Connecticut Business Centers for your company needs. Call us today at (407) 767-6912 or fill out our convenient online request form. We serve our customers in Connecticut, Stamford and nearby CT areas.