Companies usually see a drop in employee productivity during the holiday season. The stress from the holiday period, not to mention unhealthy eating habits and the start of the flu season, can take their toll on employees' creativity and health. Other workplace issues can stem from other factors during the holiday season. Connecticut Business Centers, your go-to company in the state for all your office space needs, shares some tips on how to deal with productivity and health issues that usually appear in winter.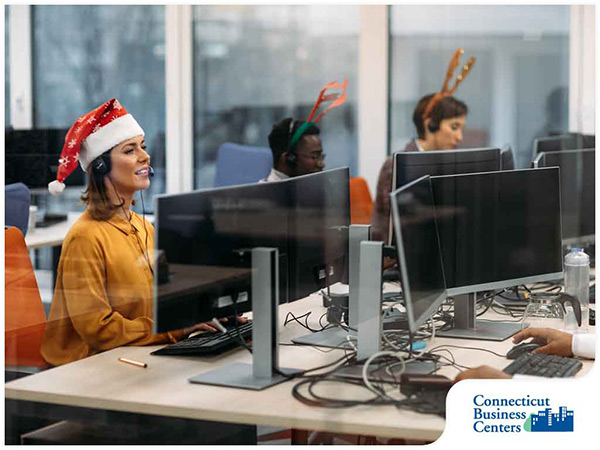 Remind Employees About Crucial Deadlines
There are a lot of potential distractions during the holidays—employees might need to do some shopping or errands, or have seasonal events they're planning to attend. Due to the extra tasks they need to finish in time for the holidays, some employees might forget some of the crucial deadlines. Giving them reminders about crucial deadlines occasionally should keep them on track.
Offer Flexible Work Schedules
However, sometimes, the number of deadlines, as well as the need to balance them with family and holiday obligations, can be too much, resulting in a drop in productivity. Offering your employees flexible work schedules or work-from-home options can lessen their load and improve productivity. Just make sure to get a reliable virtual office space provider to minimize any disruptions to business operations.
Provide Healthy Snacks
Cases of flu usually spike during winter, which is why employees need to eat right and keep their immune systems strong. However, this can be a challenge during the holidays, especially with unhealthy snacks being served at parties. Plus, not a lot of employees have the time to cook healthy meals during the busiest time of the year. To help keep your employees healthy and productive, it'd be a good idea to provide healthy snacks in the office.
Need telecommuting solutions for your company?
Connecticut Business Centers offers a wide range of office space solutions for companies, including virtual office space and conferencing. For inquiries, call us at (203) 359-5600 or leave us a message here. We serve homeowners in Stamford, CT, as well as other areas in Connecticut.