Businesses large and small are looking for new ways of organizing corporate spaces. Fortunately, there are now available solutions that are cheaper and more efficient, offering the flexibility necessary in navigating the ever-changing corporate landscape of the 21st century. This is where the flex space comes to mind.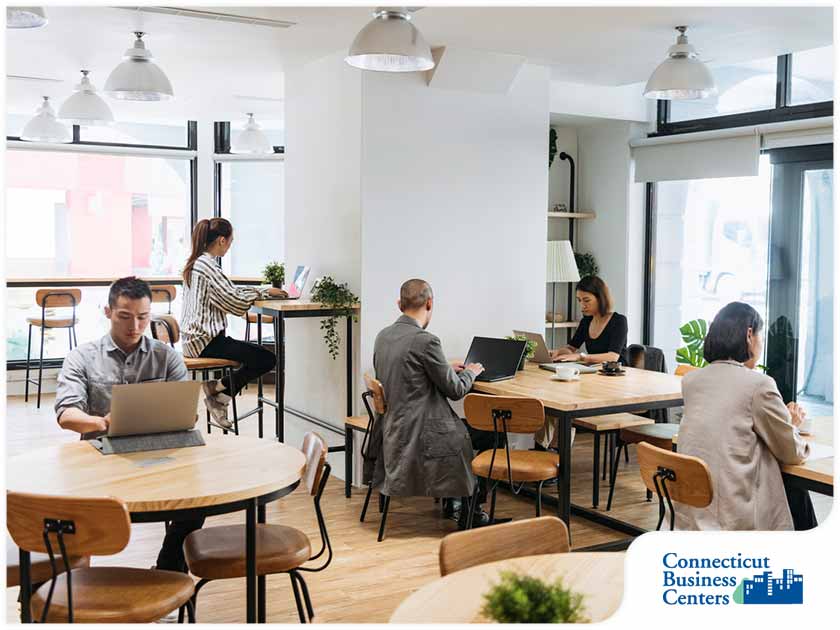 In this blog, local office space rental provider Connecticut Business Centers explains everything you need to know about flexible workspaces, focusing on their differences with traditional office spaces as well as key considerations in choosing one for your small business.
Comparing Flex Spaces With the Traditional Office Setting
In the context of commercial real estate, a flex space refers to a sizable warehouse-style building with built-to-spec office spaces which, unlike traditional office spaces, have a shorter lease. The following are some of the notable advantages that make it a unique and worthy consideration for your business:
While traditional office spaces have lease terms ranging from seven up to 10 years, a flex space is leased from about seven months to three years. This, however, will depend on how long your commercial lease should be.
Co-Working and Shared Spaces
A traditional office complex is often leased by a single company. It is indeed rare to find one that is shared by two or more. It is now possible within a flex space, which can be shared and collectively leased by multiple businesses or companies regardless of size. It has become a staple for companies whose daily operations require the use of the internet or have a co-working setup.
Shared spaces within a flex space mean that tenants share the same amenities. Depending on the type of flex space, these may include free Wi-Fi, coffee from the pantry, and a common area for lounging.
Lower Capital to Start the Business
Setting up a traditional office space requires a considerable investment that covers design, furniture, wiring and other important features necessary for businesses to run their operations effectively. Since everything is readily available for use inside a flex space, a startup company will only have to pay the initial payment.
A flex space is designed in a way that it can serve multiple functions. The possibilities are endless—it can be an office complex, a retail hub, a research center or a warehouse with minimal modifications.
Important Considerations When Choosing a Flex Space
Considering a coworking or flexible workspace comes with various benefits, especially if it meets the operational requirements of your business. Finding the right one, however, is no easy task. The great news is that most flex spaces are extremely versatile. Here's a look at some of the considerations you need to keep in mind when making your choice:
The location of your flex space should suit both your employees and clients. For one, it should be close to public transportation, especially if most of the workforce will be commuting. It should also be near places where they can relax and unwind after a workweek, like restaurants or bars. A few of these things can make a difference for your company, particularly in terms of productivity and management. Not only that, but a great location for your flex space will give your company or business a good impression on your clients.
Connectivity and Communication
A fast, secure and reliable Wi-Fi and internet connection are essential for the daily operations of your business or company, so make sure you take it into account as you choose a flex space. Other things to look for include VoIP phones and projectors inside meeting and conference rooms, as well as photocopiers and printers. Quality workspace software should also be on your list of priorities.
Take advantage of the flex space's amenities to meet other people you share your workspace with. Many coworking spaces offer monthly social gathering events that aim to establish community and camaraderie. Also, check for perks and facilities that are important to you and your workforce. Is it a pet-friendly space? Do they serve hot and cold beverages? Does it have a parking area for those who drive to and from work? Any of these are vital in developing a friendly, collaborative and productive working environment.
A typical flexible workspace may either have a combination of hot desks, fixed desks, and private offices. Hot desks are a cost-effective solution for those who won't be spending lots of time in the office. Fixed desks are slightly less flexible, but unlike hot desks, they allow workers to leave their valuables there overnight. The private office space comes at a significant cost, but for small and large businesses, it is vital for collaboration and in making the most of the flex space's features and amenities without causing disruptions with other companies.
The cost of the flex space is an important factor you should not ignore. Many coworking spaces charge per desk per day, which is a great option if you aren't going to spend most of your work days there or want to make use of your work-from-home setup. Choosing a fixed desk, however, is slightly less expensive than when paying for a hot desk. To get the most value, be sure to compare price ranges between flex spaces in your local area before making your decision.
Connecticut Business Centers provides local corporate professionals with a premier office location and convenient access to major business centers. Our coworking workspaces have an open environment that encourages productivity, as well as meeting rooms that foster collaboration and group interaction between coworkers.
We offer an excellent resource for long- or short-term office space, virtual office spaces and conferencing. With our team assisting and serving as the extension of your business, your company can enjoy greater visibility and an increased presence. Let us be your solution for office space in the local area. Call us at (203) 359-5600 or fill out our contact form to schedule an appointment. We serve corporate professionals and entrepreneurs across Connecticut, including those in and around Stamford, CT.