When you're starting a small business, you want to learn from the successes of businesses that came before yours, but you also want to know enough about the practices that you choose not to emulate so you can set your own business apart, for the better.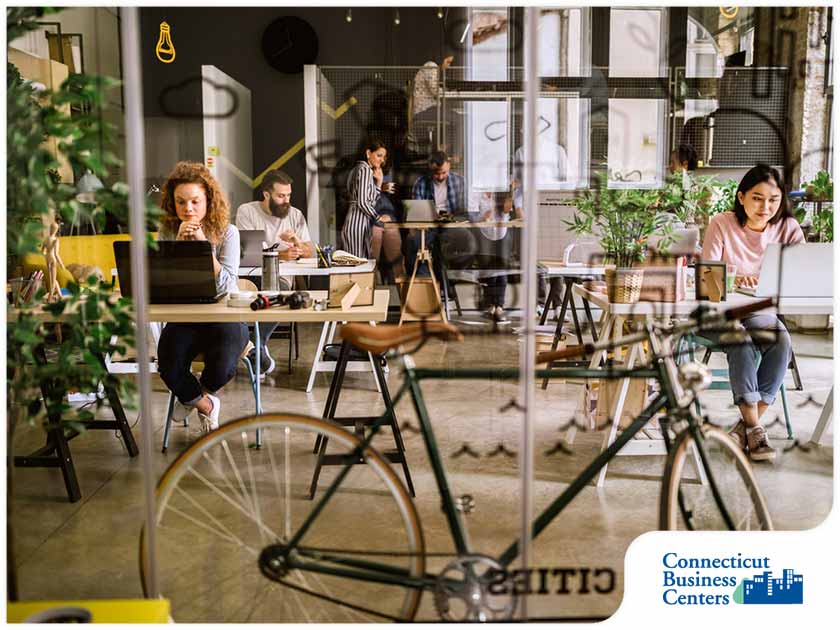 You also have to recognize and accept your current limitations, especially those that involve your financial situation and your capacity to improve that situation. For small businesses, mistakes in this area are often so costly they might spell the difference between your blossoming and folding within the first year.
One area that you should focus a lot of your attention on is your choice of office space. How do you want to go about it? Should you dump your limited cash on that beautiful, high-traffic, modern but outrageously expensive office in the CBD and cross your fingers that a huge bailout from an investor might make the gamble pay off? Should you set up shop in your parents' garage and hope that fortune smiles at you the way it did at Apple, hopefully before you run out of excuses as to why you couldn't pay your mom and pop any rent? Or should you try a flex space, which offers plenty of advantages without draining your savings? The choice is easy, actually.
A flex office space is a building where a business can share work areas with other businesses. This is also called coworking. Most flex space occupants are small businesses, satellite offices, and startups. A flex space can also be an office floor where different departments with completely different responsibilities do their work (marketing and warehouse departments).
Flex spaces have gained in popularity among startups, particularly those that are founded and run by the younger set. They are office spaces, but the way they are structured sets them apart from traditional office spaces.
They do present some advantages over traditional offices. If you're still on the fence about getting a flex or coworking space, this list of advantages might finally convince you to make a move.
Built for Collaboration
A flex office space is typically centered around collaboration and teamwork. Because the space is usually not subdivided into cubicles or separate small offices, your team learns to work together. It's common for the employees of a startup in a coworking environment to share one big table. They are free to exchange ideas, bounce suggestions off one another, without ever taking their fingers off their keyboards. It's normal for employees sharing a common workspace to be closer and more comfortable with each other, boosting their productivity and performance.
Ready to Go
Building an office from the ground up or renting a traditional one means you have to take care of everything, from setting up the internet to hiring janitorial staff to keep the office clean. You have to buy the printers, office supplies, and even the coffee machine. Before you can start the actual work, you need to take care of those things and constantly think about them.
When you get a coworking office space, you don't have to worry about any of that. There's already a connection to fast WiFi and sometimes even wired connections upon request. You can use supplies like paper and printers that are part of your monthly bills. Janitorial services are also already available. In many flex spaces, there are healthy snacks and free-flowing coffee, as well.
Safer
You can get a flex space to reduce the distance your employees have to travel. For example, if your main office is in New York City, but most of your employees are from Bristol or Hartford, you can get a space in between. Get a flex office in Connecticut. Your workers don't have to waste hours commuting to and from work, which is safer and less tiresome and time-consuming for them. Employees who are too tired and have to travel long distances usually get frustrated quickly, stunting their growth in the company and often forcing them to quit. You can lessen employee turnover if you get that office that's closer to their families, supporting a work-life balance that many employees seek.
Flexible
Do you often look at pictures of the Google offices and dream about having that sort of freedom to move around while staying productive? You don't have to spend millions of dollars to achieve something that resembles that freedom.
In a traditional office, your employees are often chained to a desk or a cubicle. It's one of the reasons people get bored and waste their time at the water cooler, chatting with officemates. You don't have to be stuck in that kind of environment.
A flex office space offers the flexibility to move around. If you have employees who need to move from one space to another to keep the creative juices flowing, a flex space allows them to do that. They can move from one place to another, carrying their laptops and finding inspiration. They're also free to sit with a colleague to exchange ideas anytime.
Lower Overheads
One of the most crucial components of startups and small businesses is their solvency. You want to lower your overheads and increase your income. Getting a flex space can help you achieve the former. The rent is typically lower than in traditional offices. You can also save money because your office and kitchen supplies, as well as your internet connection and the desks and chairs you use, are all just part of a monthly charge. You don't have to buy them yourself.
Flex spaces might allow you to save on overhead expenses, but they don't look cheap by any means. They usually have a modern design and the building is located in a good section of the city that can even impress clients. Many coworking spaces look more impressive than other, more traditional, more expensive offices.
Attractive
A flex space is often attractive to young talent. Younger people are often attracted to startups, and they like the non-traditional office setups and relationships among the employees. Working in a flex space might work to your advantage in recruiting young, talented and creative people.
If you want to look at a coworking office space, get in touch with us at Connecticut Business Centers. We offer shared spaces, meeting rooms and others. Call us today at (203) 359-5600 or fill out this form. We have offices in Stamford, Connecticut, and in other areas.